Even though Croatian has a reputation for being difficult to learn, learning it isn't impossible and I'm here to help you get started and learn Croatian more effectively.
Just like with any other new language, your primary goal is not to become fluent but to get to a 'conversational level' – in order to be able to communicate with locals using everyday vocabulary.
I want to help you find the best and quickest way to reach the mentioned conversational level in Croatian but also give you pointers on how to reach fluency. 
So, in this article, I want to share 10 great tips that can help you learn Croatian more effectively.
Steps to help you learn Croatian more effectively
#1 Get the right resources 
We at Languageboost often mention things to avoid at the beginning of your language learning, such as grappling with grammar right at the start. Some language books have lots and lots of grammar rules in them. 
While this isn't in itself bad, it can be very difficult to grasp the language well if you get stuck on memorizing grammar rules at the beginning of your learning, without even being able to use them. These types of books are best used to help you look up certain grammar rules when you need them. 
Remember to choose the resources that focus on the important vocabulary and simple sentence structures first, which will help you to form many sentences on your own. This will help you learn Croatian more effectively. 
Resources for learning Croatian might be scarce, but I've put together a list of great resources for you below that can help you get started.

#2 Make combinations

When you start learning a new language, the first thing that you will have to learn is words. 
But, when you start studying vocabulary, don't simply memorize words, but start combining them as soon as possible. Check out my other post where I've spoken more about the importance of making combinations. 
In the meantime, let's look at a couple of examples so you can see how powerful this method is:
Let's say you're learning new words. You first decide that learning basic greetings is important so you learn about 10 words. Now you know ten words, but you can't make any combinations with them. 
Next, you decide to learn the days of the week, so you know another 7 words, but you can't make any combinations with them. 
A better approach is learning words that you can combine right at the start. 
Here's how it works: 
The word ''I'' in Croatian is  ''Ja''.
Now you know: 1 word
and you can make 0 combinations.
    2.The word for ''To want'' is ''Željeti''.
I want.
Ja želim.
Now you know: 2 words
and you can make 1 combination.
And – I

You – Ti
Now try to translate the English sentences below into Croatian:
I want.
Ja želim.
You want.
Ti želiš.
I want and you want.
Ja želim i ti želiš.
You want and I want.
Ti želiš i ja želim.
Now you know: 4 words
and you can make 4 combinations.
Later you learn and add new words and keep making combinations of your own. 

Using this method you can also already notice that the verb "željeti" changes it's form. 
Ja želim.
Ti želiš.
You can conclude that the endings in the present tense can be used on other verbs as well and you have also learned a grammar rule without actually studying grammar. 
If you learn words like učiti (to learn), gdje (where), ovdje (here), tamo (there) you will be able to make over 100 sentences…
So, in order to learn Croatian more effectively, try to make as many combinations with the words you have learned.

#3 Learn certain phrases

Although it's important to be able to make combinations as soon as possible, you will still need to memorize certain phrases to get you started. 
So, learn how to say main greetings, how to introduce yourself, etc. 
Examples:
Zdravo! – Hello!
Dobar dan! – Good day!
Doviđenja! – Goodbye!
Zdravo! Zovem se Ivan. – Hello! My name is Ivan.
Kako se ti zoveš? – What is your name?
Drago mi je. – Pleased to meet you.
You can find a short list of useful Croatian phrases with the audio pronunciation here.

#4 Find a good teacher

You would learn Croatian more effectively if you find a good teacher to help you out. Also, this teacher can point out some grammar rules which are important to know and remember and you can also practice speaking from day one. 
One important note to mention here is that you find a teacher that has experience with teaching Croatian as a second language. There are many teachers in Croatia who teach Croatian as the first language and this is much different than teaching someone to speak from scratch. 
Try to find a teacher on iTalki or another platform that offers online teaching lessons. I have also listed a couple below that you can check out.

#5 Immerse yourself in the language

Language immersion doesn't mean you must move to the country where the language is spoken. 
If you already live in Croatia, great! Use that to your advantage and force yourself to speak to locals as much as possible!
However, if you don't live in Croatia, you can still immerse yourself in the language. Surround yourself with books, videos, TV series', movies, music, podcasts in Croatian, etc., so you can get used to hearing the language, and it will be easier for you to pick it up, and learn Croatian more effectively.
What better way to learn a language than walking the streets of the country and mingling with the locals?
What not to do when learning Croatian
There are some common mistakes people make when they first start learning a foreign language. 
When you dive into an adventure of learning a language such as Croatian, you're going to save yourself a lot of headache if you avoid as many of these mistakes as possible. 
Let's look at the list of things you should NOT do when learning Croatian:

#1 Speak as little as possible

I can't stress this one enough! Learning to speak in any language can be scary and very uncomfortable. But, if you keep your mouth shut, you will not progress. It's as simple as that. 
This is even more true with more complex languages like Croatian. Learn to be free to make mistakes; learn to love them, embrace them, and then learn from them.

#2 Learn unnecessary vocabulary
This is a common mistake new learners make. Languages are a vast collection of thousands and thousands of words, but only a portion of those words are used in everyday conversations. 
Why waste your time learning to say things that are irrelevant? Select the most used vocabulary of your target language and focus on that first. 
Later, as you progress, you can add more complex words. In fact, you might be surprised just how much you can say with only a few words. It's all about learning to combine the words you know into new sentences and phrases. 
It's hard to be able to select the most relevant vocabulary to start with. That's why we've created it for you to make your Croatian learning journey easier.


#3 Grapple with grammar

Croatian grammar is quite complex. Not to mention that Croatian is quite famous for its exceptions to the rules, exceptions to the exceptions, etc. 
Actually, in order to learn Croatian more effectively, my suggestion is to avoid grammar books all together at the beginning of your language learning. It's unhelpful to try and memorize a list of rules when you still don't know a lot of words or you still haven't grasped the idea of your target language. 
This doesn't mean you will never learn grammar, however. Actually, you will learn grammar as you learn to make combinations and sentences with the words you already know. 

#4 Learn on your own

This one is quite tricky. There are plenty of resources on the Internet to help you get started with learning a language, but Croatian is the type of language you should really not study on your own. 
You can get started with basic vocabulary and sentence structure, but you will progress much faster if you find a teacher who can help you with your learning. Not to mention that you'll have someone to speak and practice with on a regular basis.
Why is it important to have a teacher when learning Croatian?
Well, for starters, I've mentioned that Croatian is a language that might be a bit tricky to read. Although the words are spelled the way they are pronounced, it's not so easy the other way around.
Reading can be difficult since there are many aspects to consider so you could learn to pronounce words incorrectly, which could give you a lot of trouble later on down the line.
Also, word order in Croatian tends to be a bit difficult. Although it's quite flexible, there are some rules that need to be followed. And, the best way to learn all of this is by conversing with a native speaker/teacher who can explain to you the tricks of the Croatian language. 
Although you might have to invest some money to work with a teacher, you will no doubt save yourself lots of time and trouble. 

#5 Translate word for word

This is a quite common rule in any new language that you are learning. Just because English (or your native language) has a certain word order or sentence structure, that doesn't mean it can be conveyed to other languages (unless they are very similar).
Let's look at this simple example, for instance:
Je li hrvatski težak?
[Is] [interrogative particle] [Croatian] [difficult]?
Is Croatian difficult?
Jest, težak je.
[It-is], [difficult] [is].
Yes, it is difficult.
In the above example, it would be incorrect to reply – Jest, je težak. – even though it would be perfectly normal in English – Yes, it's difficult. 
Ok, so now you know what not to do. But, what are the best resources you could use to get your Croatian learning off to a good start? Let's check them out!
The best resources for learning Croatian
We always advise our students to focus on the most important and relevan vocabulary first. We use this method in our Vocabooster courses. In this video you can learn 100 most important words and see how our courses work. 
Even though the resources for learning Croatian seem to be scarce, there are still great curses and websites to help you get started!
I've put together a comprehensive list of fantastic resources for English speakers learning Croatian:
VOCABOOSTER CROATIAN
The VocaBooster Croatian is great for learning Croatian from scratch.
We've handpicked the most important vocabulary together with example sentences and native speaker pronunciations for those of you who want to start speaking and communicating in Croatian from the very beginning. 
With this course, you will be able to make combinations from the start and you will be able to make lots of sentences yourself in record time. 
To download your copy of the course, along with a full Anki deck to help you memorize vocabulary easier, click here.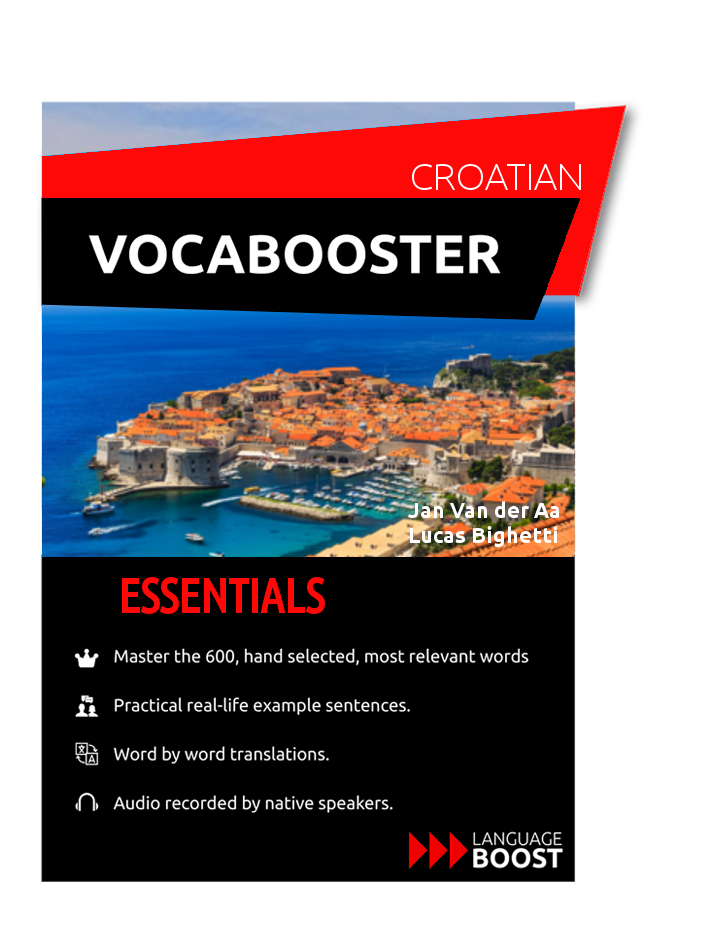 GREAT WEBSITES
A great place to continue your language learning is a website called Easy Croatian where you can study everything from vocabulary to sentences and grammar. It also uses native speakers for the vocabulary, which is very important for correct pronunciation. 
HR4EU is a web portal for Croatian language e-learning. Besides learning the language, here you can also learn about Croatia and Croatian gastronomy, culture, and history. It is developed by the Faculty of Humanities and Social Sciences at the University of Zagreb and funded by the European Union.
Croatian 101 offers a spectrum of great resources from downloadable audio files, thematic vocabulary lists, and games to make your learning more fun. There are also links to Croatian radio stations, Croatian news, and a whole variety of free stuff to help you dive deeper. 
Memrise offers a variety of courses, from vocabulary and basic phrases to verbs and different grammar features. 
CoLanguage is a great place to get started with Croatian and later to learn more about grammar. The site also offers you a number of tutors you can book for online lessons. 
Learn Croatian website is another place where you can learn the basics of Croatian for free. It also has native speaker recordings available that follow the vocabulary lists.
SCHOOLS
Croaticum, the Center for Croatian as a Second Language at the Department of Croatian Language and Literature at the Faculty of Humanities and Social Sciences of the University of Zagreb offers several options:
Sputnik, Croatian Language Academy in Zagreb offers a variety of courses for the residents of the capital of Croatia. 
Centre for Croatian Studies Abroad in Split offers a one-semester language course. 
The Rijeka Croatist School, Faculty of Arts and Sciences, University in Rijeka.
Summer school of Croatian language Zoranic's Arcady is organized by the Department of Croatian and Slavic Studies at the University of Zadar.
Croatian Seminar for Foreign Slavic Studies Students in picturesque Dubrovnik.
Croatian language course in Dubrovnik.
For courses at private language schools, check out this list. 
BOOKS
I've not checked these out myself, but they seem to have good ratings on Amazon, so you might want to consider them. 
Complete Croatian Beginner to Intermediate Course: Learn to read, write, speak and understand a new language (Teach Yourself) 1st Edition.
Croatian: Learn Croatian in a Week! is a phrasebook that offers basic phrases in Croatian. 
Lonely Planet Croatian Phrasebook & Dictionary
Learn Croatian – Quick / Easy / Efficient: 2000 Key Vocabularies
Croatian Language: 101 Croatian Verbs
YOUTUBE CHANNELS
Easy Croatian – as part of the Easy Languages channel, here you can learn Croatian from the streets of Croatia, learning about the culture and its people as you go along.
Croatian 101 Lessons – following lessons in order, this YouTube Channel offers the basics of the language in short videos. 
I hope these tips for learning Croatian have helped you get started or find the necessary resources to begin your language learning journey. 
Remember, even though Croatian may be complex, there are several benefits of learning this language. All you need is to find a strong motivation to keep you going when the going gets tough.
Learn the most important vocabulary first

Don't get tangled with grammar too much

Find a good teacher

Stay motivated!
We are here to help you with your language learning journey. If you have any questions, contact us and we'll be happy to help.
Feel free to share this article with a friend eager to learn Croatian.
Sretno! (Good luck!) 
This article is a part of a set of articles called The Croatian Language Series. If you would like more information about different aspects of Croatian, please visit the related posts:
About the writer of this acticle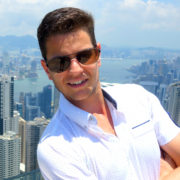 Jan van der Aa traveled to over 100 countries and learned 10 languages before he turned 30. On this website, he shares his language learning experience and helps people from all over the world to learn languages faster.
Jan van der Aa
Co-founder LanguageBoost
Contact details:
Languageboost OÜ
Narva mnt 5
Tallinn, Estonia
VAT: EE102137978
Registry code: 14563273
info[at]languageboost.biz