Croatian is a beautiful, but a challenging language to learn. However, things don't have to be as hard once you find the right resources to help you on your journey. 
I've put together a list of the best online resources for learning Croatian, as well as a list of schools that offer courses for Croatian as the second language. 
I have also included the reasons why it would be good for you to learn Croatian!
So, let's get started…
The best resources for learning Croatian
In all of our courses we use the same method – learning and focusing on the most important vocabulary first. This video is a sample of our Croatian Vocabooster course in which you can learn the first 100 most important words in Croatian. 
Even though the resources for learning Croatian seem to be scarce, there are still great curses and websites to help you get started!
I've put together a comprehensive list of fantastic resources for English speakers learning Croatian: 
VOCABOOSTER CROATIAN
The VocaBooster Croatian is great for learning Croatian from scratch.
We've handpicked the most important vocabulary together with example sentences and native speaker pronunciations for those of you who want to start speaking and communicating in Croatian from the very beginning. 
With this course, you will be able to make combinations from the start and you will be able to make lots of sentences yourself in record time. 
To download your copy of the course, along with a full Anki deck to help you memorize vocabulary easier, click here.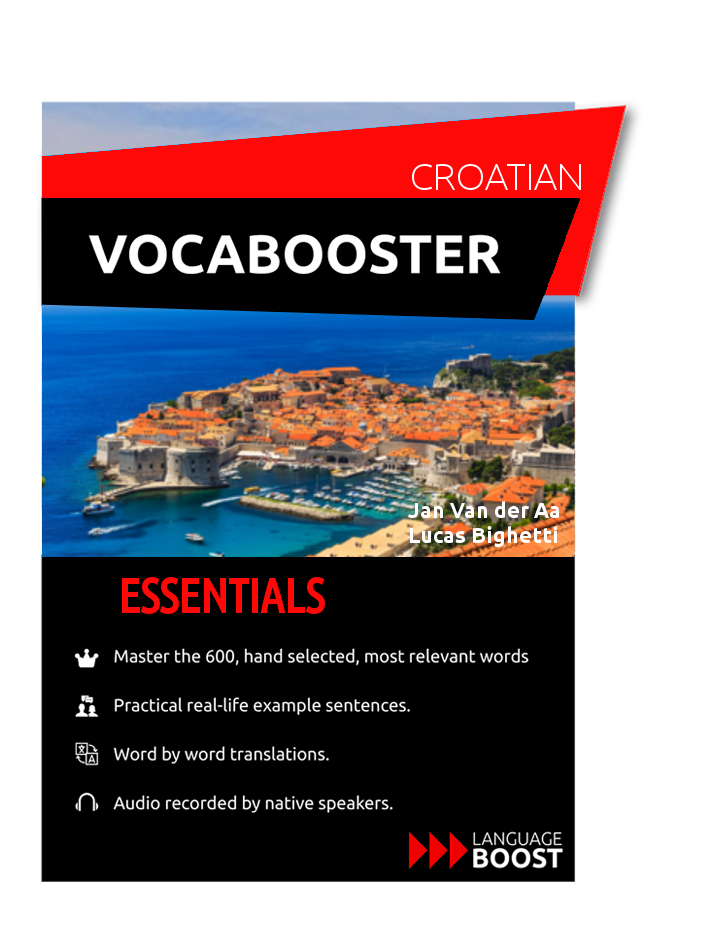 GREAT WEBSITES
A great place to continue your language learning is a website called Easy Croatian where you can study everything from vocabulary to sentences and grammar. It also uses native speakers for the vocabulary, which is very important for correct pronunciation. 
HR4EU is a web portal for Croatian language e-learning. Besides learning the language, here you can also learn about Croatia and Croatian gastronomy, culture, and history. It is developed by the Faculty of Humanities and Social Sciences at the University of Zagreb and funded by the European Union.
Croatian 101 offers a spectrum of great resources from downloadable audio files, thematic vocabulary lists, and games to make your learning more fun. There are also links to Croatian radio stations, Croatian news, and a whole variety of free stuff to help you dive deeper. 
Memrise offers a variety of courses, from vocabulary and basic phrases to verbs and different grammar features. 
CoLanguage is a great place to get started with Croatian and later to learn more about grammar. The site also offers you a number of tutors you can book for online lessons. 
Learn Croatian website is another place where you can learn the basics of Croatian for free. It also has native speaker recordings available that follow the vocabulary lists. 
SCHOOLS
Croaticum, the Center for Croatian as a Second Language at the Department of Croatian Language and Literature at the Faculty of Humanities and Social Sciences of the University of Zagreb offers several options:
Sputnik, Croatian Language Academy in Zagreb offers a variety of courses for the residents of the capital of Croatia. 
Centre for Croatian Studies Abroad in Split offers a one-semester language course. 
The Rijeka Croatist School, Faculty of Arts and Sciences, University in Rijeka.
Summer school of Croatian language Zoranic's Arcady is organized by the Department of Croatian and Slavic Studies at the University of Zadar.
Croatian Seminar for Foreign Slavic Studies Students in picturesque Dubrovnik.
Croatian language course in Dubrovnik.
For courses at private language schools, check out this list. 
BOOKS
I've not checked these out myself, but they seem to have good ratings on Amazon, so you might want to consider them. 
Complete Croatian Beginner to Intermediate Course: Learn to read, write, speak and understand a new language (Teach Yourself) 1st Edition.
Croatian: Learn Croatian in a Week! is a phrasebook that offers basic phrases in Croatian. 
Lonely Planet Croatian Phrasebook & Dictionary
Learn Croatian – Quick / Easy / Efficient: 2000 Key Vocabularies
Croatian Language: 101 Croatian Verbs 
YOUTUBE CHANNELS
Easy Croatian – as part of the Easy Languages channel, here you can learn Croatian from the streets of Croatia, learning about the culture and its people as you go along.

Croatian 101 Lessons – following lessons in order, this YouTube Channel offers the basics of the language in short videos. 
Why should you learn Croatian?
If you've searched and found this article, the chances are that you are already thinking about learning Croatian, or you may have already started. 
In that case, you must have a few reasons of your own as to why you decided to pick up this beautiful, yet complex language. 
There are many reasons why you might want to make Croatian next on your language-learning list:
you love traveling and can't wait to explore Croatia and mingle with the locals

you have a Croatian background and want to learn your language of heritage

you are planning to move to Croatia

your partner is Croatian and you want to be able to communicate in their native language

there is a large Croatian-speaking community in your area that you want to connect with

you love a good language learning challenge and Croatian seems a good place to start
Whichever your reason for learning Croatian, make sure it's a strong one to keep you motivated and persistent. Here are a couple of reasons that might help you get and stay excited:
Croatia has a rich culture and history
If you love history and exploring new cultures, the best way to immerse yourself in that culture is by learning the language and meeting the locals. 
Sitting on the border between the Balkan peninsula and Western Europe, Croatia's history books have been marked with numerous wars, epic battles, courageous warriors, old kings, political turmoil, and fights for the independence of both country and language. 
Historical evidence tells us that Croats arrived in the Balkans in the early 7th century! Initially, they were nomadic people living in small villages but very soon they became a recognized kingdom. 
The first king of Croatia, King Tomislav, was crowned in 925 AD. That's half a century before America was even discovered… Imagine the richness of history!
Croats are extremely proud of their heritage and are very patriotic. They would love to share their rich history with you. Croats also love everyone attempting to speak to them in their own language.
So, if for instance, you speak Croatian and then mention the Croatian football team's success in the 2018 World Cup, you'll be extremely popular!
Croats have managed to preserve their historical cities that speak of the life people once lived. It's no wonder Croatia is called – The Mediterranean as it once was.
Croatian is a great place to start if you are interested in Slavic languages
Once you are able to speak Croatian, it will be very simple for you to pick up some of the other Slavic languages. 
In fact, although they are distinct and different languages, you will have no problem understanding Serbian, Bosnian or Montenegrin. Even though they have their differences, learning one of these languages will automatically propel you into understanding the rest. 
If you were to ask locals how many languages they speak, they will jokingly tell you that they speak several – alluding to the aforementioned languages. 
These Slavic languages are all different and distinct, but also very similar to each other. If you can speak one, you could understand the other three and communicate without much difficulty. 
In fact, if you were to place a Croat, Serb, Bosnian and Montenegrian in a room and each spoke their own language, they would have absolutely no difficulty in understanding each other. You can read more about the differences and similarities of these languages here.
Now, how about that? Basically becoming multilingual by learning a single language? Not a bad deal!
Also, in comparison to these other languages, Croatian uses a Latin script. Serbian uses Cyrillic, similar to that of Russian, with some differences, and Bosnian uses both scripts. For an English speaker, it would be easiest to begin with Croatian so you wouldn't have to learn another alphabet. 
Croatian is also a great base to learn other Slavic languages (Slovenian or Bulgarian, for example) since these languages share similar vocabulary and grammar structures. 
You're planning to stay in Croatia for more than three months
This is a huge reason to take up Croatian. If you're planning on visiting the country and staying for a longer period of time, being able to speak Croatian is highly recommended. 
Even though the majority of younger Croats speak English pretty well, bureaucracy (a nightmare in any language!), for instance, could be extremely difficult if you don't have a decent grasp of the Croatian language.
If you spend a notable period of time in any country, you are more than likely going to need to deal with the likes of government agencies or medical facilities. In Croatia, all of these will require you to speak Croatian to some extent. Sure, you could bring a translator with you, but how can you guarantee that you will find someone available at all the times you might need them?
If you plan on staying in touristy areas then you could get by with just English, since Croatia is a tourist destination and the majority of people working in tourism will speak one of the European languages. 
However, once you move away from the touristy spots, you may run into people that hardly speak any English at all. This is especially true of the older generation, and for younger Croats who haven't spoken or used the English they learned in primary school for years. 
Also, if you are single and stay in Croatia for an extended amount of time, you may even think about entering a romantic relationship with one of the natives!. And if you can already speak the language, talk about a game-changer in helping you on your way! If you might ever need a great reason to learn the Croatian language, this is it. 
However…
There you have it!
Great reasons why you should be learning Croatian and the best resources out there to help you get started. 
Remember, even though Croatian may be complex, there are several benefits of learning this language. All you need is to find a strong motivation to keep you going when the going gets tough.
We are here to help you with your language learning journey. If you have any questions, contact us and we'll be happy to help.
Feel free to share this article with a friend eager to learn Croatian.
Sretno! (Good luck!)
This article is a part of a set of articles called The Croatian Language Series. If you would like more information about different aspects of Croatian, please visit the related posts:
About the writer of this acticle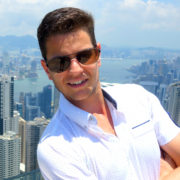 Jan van der Aa traveled to over 100 countries and learned 10 languages before he turned 30. On this website, he shares his language learning experience and helps people from all over the world to learn languages faster.
Jan van der Aa
Co-founder LanguageBoost
Contact details:
Languageboost OÜ
Narva mnt 5
Tallinn, Estonia
VAT: EE102137978
Registry code: 14563273
info[at]languageboost.biz