If you want to become fluent in a new language, you can't escape from it; you'll have to learn many words. The more words you're able to learn within a certain amount of time, the more you will be able to understand.

But what is the best way to learn new words?

Today, I'm going to share with you why most people are not learning new words in an effective way and how you can become better at learning vocabulary.

This time I'm not just going to share my own thoughts and experiences. I'll share a few learning strategies from a Dutch professor that have been supported by scientific research.

Are you ready to become a better learner?

Ok, here we go…

Recently I watched this talk (video in Dutch) by a psychologist called ''Gino Camp''. He spent many years of his life researching how we can become better at learning.
The professor suggests us to use several learning strategies that are supported by science. They can be applied to learning a language as well.
Here is the first strategy:
He emphasizes that it's important to understand the context.
Let's see how that works.

Read the following sentences:

A newspaper is better than a magazine.
At first it's better to run than walk.
You might first have to try it a few times.
It requires some skills but it's easy to learn.
Birds don't get close most of the time.
When the things break out, you don't get a second chance.

Read it?

Ok

10

9
8

7

6

5

4, 3, 2, 1….

OK, your short term memory should be empty now.

What did the previous text say?
How much of the information are you able to remember?

Now let's do it again but this time I'm going to add a title to it:

Creating and flying a kite

A newspaper is better than a magazine.
At first it's better to run than walk.
You might first have to try it a few times.
It requires some skills but it's easy to learn.
Birds don't get close most of the time.
When the things break out, you don't get a second chance.

All of a sudden, everything makes a lot more sense right? Would this text be easier to memorize knowing the context? Definitely!  

Context is important. When you learn a new word, make sure that that you learn it in context. In a full sentence, or in a story for example. Ideally with audio, a video or an image.
Adding an image or audio to the context helps you remember more effectively.
#2 Spread out your learning
After we absorb new information, we quickly forget it. If we study the information a second time we're still likely to forget it, but we'll forget it a little bit slower. The more often we revise, the less likely it is that we're going to forget it.
If you want to learn a language and use it for the rest of your life, spread out your learning. Don't just study the day before the exam like you did at school, because you will forget what you've learned.
#3 Don't just revise, also generate
Want to memorize a new word? Try to make a sentence with that word.

Learning grammar? Instead of just learning the rules, make a sentence using correct grammar rules.

Scientifically, generating is much more effective than revising.

Eventually, we can only ''activate'' what we've learned if we start using it!
We humans, constantly overestimate ourselves. It is said that at 70% of students at school who fail exams, originally thought they were going to pass.

Ever tried to learn a language with Duolingo or another fancy app? The fancy graphics, motivational sounds and the counting score give you a good feeling, but once you have to speak your target language with real people your confidence seems to suddenly evaporate.
Passive learning is not enough. Test yourself to find out where your ''holes'' are and focus on fixing these first.
Flashcards Apps like Anki are a great way to test yourself.
But this doesn't work for me…
Now you might think, wait but this doesn't work for me. Science says that is not true.
Learning strategies are the same for everyone. They are based on how our brains work.
Some people might have other preferences but that doesn't mean that they also work better.

If that's true then why don't most people use these techniques?

Well, it takes effort.

Revising your vocabulary list is much easier than generating new sentences with the new words you've learned. Revising dialogues to expand your vocabulary is easier than learning with flashcards. Unfortunately ''easier'' doesn't mean more effective.

So want to learn languages more effectively?

– Don't start studying just one day before an exam.
– Stop learning word lists and grammar by heart.
– Stop using fancy apps with multiple choice exercises or other ''passive learning'' tools.
– Don't study too much!

Instead:

– Learn with context.
– Focus on what's relevant.
– Use what you learn, for example, by generating sentences or by translation exercises.
– Spread out your learning.
– Test yourself regularly.

How can you do this?

All our courses make use of the learning strategies mentioned in this text.

Another useful tool is a flashcard application like Anki which uses a spaced repetition system. It will let you revise vocabulary just before the app thinks you're likely to forget it.
Anki automatically spreads out your learning and tests how much you remember.
If you want to find out more fast, you can learn more in our e-book The Art of Rapid Language Learning.


About the writer of this article: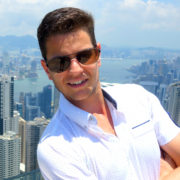 Jan van der Aa traveled to 100 countries and learned 10 languages before he turned 30. On his website he shares his language learning experience and helps people from all over the world to learn languages faster.
Jan van der Aa
Co-founder LanguageBoost
Contact details:
Languageboost OÜ
Narva mnt 5
Tallinn, Estonia
VAT: EE102137978
Registry code: 14563273
info[at]languageboost.biz