In this blog, I will talk about the problems of using the comprehensible input method as a primary method for learning a foreign language.
In one of our previous blogs, I spoke about the importance of making combinations with the vocabulary you already know, no matter how limited it might be. 
If you have been reading our blogs or following us for a while, you might have noticed that we focus a lot on generating "output'', in other words using what you learn. This might sound controversial to people who support the "comprehensible input'' approach. 
Although we don't disregard the importance of input in language learning, there are a few issues we feel are important to point out.
If you're in the process of learning a new language, or if you're thinking about it, read on to discover more about what is comprehensible input and why we think it could not be the best method to learn a new language.

First, take a look at the video below in which we discuss two very different approaches to language learning: input-based learning and output-based learning. Is there a better method? Can we combine the two? Discover yourself…
Benny Lewis vs. Steve Kaufmann – Whose Method Works Better?
What is the comprehensible input?
But what is comprehensible input?
It's the central element of a group of hypotheses of second language acquisition formulated by the linguist Stephen Krashen between 1970 and 1980 (read what the British Council has to say about it). Krashen's theory had much influence on language learning methods, but it also received well-founded criticism.
Here's a short explanation of what comprehensible input is:

"Comprehensible input is language input that can be understood by listeners despite them not understanding all the words and structures in it. It is described as one level above that of the learners – if it can only just be understood. 
According to Krashen's theory of language acquisition, giving learners this kind of input helps them acquire language naturally, rather than learn it consciously.
An example:
The teacher selects a reading text for upper-intermediate level learners that is from a lower advanced level coursebook. Based on what the teacher knows about the learners, the teacher believes that this will give them 'comprehensible input' to help them acquire more language".
What is the problem with comprehensible input?
Although we think that learning with comprehensible input' is a great way to improve your listening and reading skills, it doesn't focus much on developing your speaking skills. And that's exactly the problem that we're solving here.
If you want to reach a conversational level, you'll first need to "activate'' the language in your brain. 
Passively knowing a language, and actively knowing it, are two different things. One skill is to memorize information, but another skill is to quickly retrieve information that you've learned. 
Unfortunately, most people don't focus so much on the latter. 
Children manage to pick up a language because we talk to them at a level just above their comprehensible input. The other reason is that children are not afraid to speak. Because they don't speak any other language yet, they are forced to use (activate) the language that they're learning. For them, speaking a language badly is less painful than trying to get the message across without any language at all. 
The bottom line
If you want to pick up a new language quickly, getting good input is important but using the language (activating) is the key for visible results.
That being said, only focusing on learning, comprehensible input can be a great way to improve a language that you can already speak. Once you're more or less fluent, the language is already part of you and you can focus more on your comprehension skills and expanding your vocabulary. 
Learning a language with only comprehensible input might seem less work. There is no "heavy lifting'' as we do, for example, with drill exercises, practicing with flashcards or with a tutor. This is why people who approach second language acquisition are attracted by Krashen's theory.

Unfortunately, in language learning, it's just like building muscle. If you want to pick up a new language quickly, you'll need to use effective learning strategies, and that will take some effort. 
Your brain is like a muscle, so don't forget to work it out. Again, no pain, no gain!
Check out the blog in which I address the popular myths of language learning. 
If you want to learn a language fast, you can find out more in our e-book The Art of Rapid Language Learning
About the writer of this article: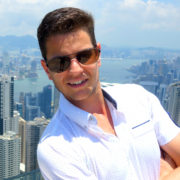 Jan van der Aa traveled to 100 countries and learned 10 languages before he turned 30. On his website he shares his language learning experience and helps people from all over the world to learn languages faster.
Jan van der Aa
Co-founder LanguageBoost
Contact details:
Languageboost OÜ
Narva mnt 5
Tallinn, Estonia
VAT: EE102137978
Registry code: 14563273
info[at]languageboost.biz