The Ultimate Beginner's Guide to Learn Indonesian
A quick guide, full with value for everyone who wants to learn Indonesian quickly.
If you're asking yourself how to learn Indonesian, well… we wrote this blog post just for you!
Do you live in Indonesia? Or maybe you've lived there in the past? Maybe you just want to visit Indonesia on holidays? Or maybe your spouse is from an Indonesian background?

Being able to speak Indonesian can definitely be a life changer. Imaging yourself visiting Indonesia and being able to talk with the locals in their own language: how would it improve your experience in the country? How would it improve your relationship with Indonesians that you know?

Indonesians are very friendly people and they will be surprised when they find out that you speak Indonesian, even if you don't speak it very well. I have approached Indonesians in their own language all over the world and the reactions are priceless.

But is Indonesian easy to learn? Many say that Indonesian is an easy language, but is this true? And how much time it will take you to become conversational?


Learn Indonesian and start speaking TODAY with our more with less method: join VocaBooster Indonesian now!


In this post you will learn:

1. Is Indonesian easy to learn?
2. Nine reasons why Indonesian is easy
3. What is the hardest part about learning Indonesian?
4. How long does it take to learn Indonesian?
5. How to learn Indonesian fast?
7. Powerful Indonesian resources.

1. Is Indonesian an Easy Language to Learn?
Indonesian is just like English, written in the Latin/Romance alphabet. It's not a European language and words are very different from English.

Let's assume that you're a native speaker of English or that you speak English very well. What does it actually take to become conversational in Indonesian?

Let's take a look at the facts.

The Foreign Service Institute (FSI) has created a list to show the approximate time you need to learn different languages as an English speaker. They have divided languages in various categories:

Category I: 23-24 weeks (575-600 hours).
Languages closely related to English.
Includes languages such as; Afrikaans, Dutch, Spanish, French, Italian, Norwegian.

Category II: 30 weeks (750 hours).
Languages similar to English.
Includes; German.
Category III: 36 weeks (900 hours).
Languages with linguistic and/or cultural differences from English.
Includes languages such as; Indonesian, Malaysian, Swahili.
Category IV: 44 weeks (1100 hours).
Languages with significant linguistic and/or cultural differences from English.
Includes languages such as; Hebrew, Icelandic, Russian, Serbian, Turkish.
Category V: 88 weeks (2200 hours).
Languages which are exceptionally difficult for native English speakers.
Includes languages such as; Arabic, Mandarin, Cantonese, Japanese.

As you can see, they rank Indonesian as a category three language. Together with Malaysian and Swahili, this is the easiest non-European language to learn for English speakers.

Indonesian isn't the easiest language to learn but it is not very difficult either.

Let's take a look at the easy and difficult aspects of learning Indonesian.
2. Nine Reasons why Indonesian is Easy to Learn
Watch here the video where Jan explains (in detail) why Indonesian is easy to learn.
The easiest aspect about learning Indonesian is the grammar. Compared to European languages, Indonesian grammar is extremely simple.

Let's see why:

1. There are no verb conjugations (unlike in probably all European languages).

English

Spanish

Indonesian

I speak

Yo habl

o

Aku bicara

You speak

Tú habl

as

Kamu bicara

He speak

s

Él habl

a

Dia bicara

We speak

Nosotros habl

amos

Kami bicara

They speak

Elles habl

an

Mereka bicara
As you can see, the Indonesian verb endings don't change.
2. There are no cases (unlike in German, Greek, Arabic and the Slavic languages).
Here is an example of the accusative case in Russian. As you can see the word for ''school'' in Russian changes in this example. Indonesian, like English, doesn't have these kind of cases.
English

Russian

Indonesian

School

Школа

Sekolah

I go to school

Я хожу в школ

у

Aku pergi ke sekolah
3. In informal Indonesian, the plural forms of nouns are hardly used. Most of the time it's clear from the context if something is more than one.
Example:

Person – Orang
Two people – Dua orang

Or

Student – Siswa
Many students – Banyak siswa

When you use words like 'two' or 'many', you know that you're talking about more than one.

4. Indonesians use an alphabet based on the Latin script, just like English. So there is no need to learn a new alphabet system like in Russian, Thai, Arabic, Chinese, Korean and Japanese.
5. Indonesian is a phonetic language that means that words are spelled as they sound. Languages such as English and French are not phonetic so if you don't know how the word is pronounced, you have to guess. In Indonesian, you don't have this problem.
6. Basic Indonesian word order is the same as in English. This is not the case for Japanese, Korean, Turkish, German and many other languages.
7. Indonesian doesn't have verb tenses. This means that verbs don't change depending on the tense. Instead, they use certain words to show when the activity took/takes/or will take place.

For example:
– Saya merokok – I smoke.
– Saya sedang merokok – I am smoking.
– Saya sudah merokok – I smoked, I have smoked, I had smoked, I have been smoking, I had been smoking.
– Saya akan merokok – I will smoke, I will be smoking, I will have smoked.

Do you see that the tenses in Indonesian are much more simplified than in English?
8. Indonesian nouns don't have a gender. In Spanish, for example, it's 'el hombre' but 'la mujer'. So when you learn a noun you need to know if is masculine (el) or feminine (la). Just like in English, Indonesian sounds don't have a gender so you're less likely to make mistakes here.
9. Unlike other Asian language such as Chinese, Vietnamese and Thai, Indonesian doesn't have tones.
3. What makes Indonesian hard to learn?
1. As you might have guessed, Indonesian is not a European language. Indonesian comes from another language family that's called the Austronesian language family.
This means that Indonesian doesn't share a lot of vocabulary with English. Languages such as Spanish and French, for example, have a lot of words in common with English.
So if you want to learn Indonesian from scratch, you will have to start building your vocabulary from zero. Sorry, guys you can't cheat here!

There are a few exceptions though:

Indonesian English
astronot astronaut
bisnis business
diskon discount
elektronik electronic
gosip gossip
isu issue
katering catering service
komputer computer
But what is the most difficult aspect of learning Indonesian? Well, opinions vary but there are a few challenges that people who learn Indonesian face.

2. Colloquial Indonesian is very different from formal Indonesian. Most foreigners learn formal Indonesian, because that's what's used in public speeches, formal writing, and in educational settings. The way people actually speak is a bit different which can make it very difficult for beginners to understand.

A few things that are different in informal Indonesian:

"Saya/kamu" second person pronouns are changed to "gue/lo". (not to strangers).
"Tidak" (not) is usually replaced with "nggak".
"Jika" (if), "bahwa" is rarely used and is usually replaced by "kalo", from "kalau".
"Belum" (not yet) is usually pronounced "belóm" instead of "belúm".

3. In Indonesian, they use lots of prefixes and suffixes. A prefix is a group of letters that is placed before the root word and a suffix is a group of letters that is placed after the root word.

Now this can actually be a helpful thing. Let's take a look at how this works:

Baik – Good
Terbaik – The best

Kecil – Small
Terkecil – Smallest

Makan – To eat
Pemakan – Eater

Cetak – To print
Pencetak – Printer

You see that with the prefixes above, the meaning of the word changes. If you have a foundation in Indonesian, you can easily expand your vocabulary by learning these prefixes and suffixes.
Some of them can be a bit confusing though.

For example, transitive verbs (verbs that can have a subject) cannot be used in a sentence in their infinitive forms.

So…

I read – Aku baca
I read a book – Aku membaca buku

Because in the second example, there is a subject and, therefore, you need to add the -mem prefix.
Overall, I do think that having so many prefixes and suffixes makes learning new words actually easier. Some of them, for example, the -mem prefix that I just explained, might be a bit tricky to understand in the beginning.

Once you get more exposure to the language, these prefixes and suffixes will start to make more sense and eventually you will start using them automatically.

4. Finally, I should mention that in most cases, the adjectives come after the nouns in Indonesian, just like in Spanish or French.

So ''a black book'' becomes ''buku hitam'' literally, ''book black''. I think that this is relatively easy to get used to.

As you can see, learning Indonesian can be a bit tricky sometimes but overall learning this language should be very enjoyable.

4. So is Indonesian easy to learn?
Of course, it all depends on what you define as easy, but I think that we can definitely say that Indonesian is indeed relatively easy to learn for English speakers. It's probably the easiest non-European language for English speakers.

You will have to build your Indonesian vocabulary from scratch as there is little overlaps with English. On the other hand, words are relatively easy to pronounce and to memorize and Indonesian grammar is very easy.

This means that you can start speaking Indonesian fairly quickly after getting started. Learn the most important words, try to make sentences and very soon you will be able to hold basic conversations in Indonesian and connect with Indonesian people!

If you're wondering how to learn Indonesian fast, well… We've tested many Indonesian courses but we couldn't find any course that teaches you the vocabulary that you really need for your first conversations.

That's why we created our own course called VocaBooster Indonesian. Click the following link to see how VocaBooster can help you become conversational in Indonesian.

My friend Ed from the YouTube channel "La Ferfection" made another fun video about how easy Indonesian is.
5. How long does it take to learn Indonesian?
According to the Foreign Service Institute it takes about 36 weeks or 900 hours to become proficient in Indonesian. The fact is that it takes significantly less time to reach a basic conversational level.

Mastery in language learning often takes years or even decades, but understanding the basics and holding basic conversations can be achieved in much less time.

I've met a lots of foreigners who managed to raise their Indonesian to a basic level in a matter of months.

I think that if you're serious about learning Indonesian and put in 30 minutes to 1 hour every day, you should be able to hold basic conversations after 1 to 3 months, depending on how much experience you have learning foreign languages.

You won't speak it fluently, but you will be able to go to Indonesia and have short, fun, conversations with Indonesians and you will be able to travel around and do everything in Indonesian.
Get our FREE eBook and learn how YOU can reach a conversational level in 7 weeks!
6. How to learn Indonesian Fast?
Everyone learns languages differently and there is no "best method". We are convinced though that by following three principles, it will be extremely helpful for those who want reach a conversational level in Indonesian quickly.

1. Learn the most important words first.
The Pareto principle (also known as the 80–20 rule) basically states that you can achieve 80% of the results from 20% of work. This principle can be applied in language learning as well. In most languages, people only use 5% of the vocabulary, 95% of the time.

Besides that, your first conversations in a new language will always be the same:

''What's your name?'', ''Where are you from?'', ''What do you do here?'', ''Do you live here?'', ''For how long have you studied…..?''.

To create your first sentences, you need words such as: I, you, to like, can, to do, today, to want, to be, expensive, big etc.

You will be surprised by how many things you will be able to say by knowing only a few hundred words. This principle works very well for Indonesian because of its simple grammar. Of course, you won't become fluent this way, but it's a great way to start!

2. Focus on making sentences from the beginning
When we learn languages at school, we often have to learn thousands of words. We also learn all the grammar rules and eventually, we have to read books in that language.

Despite spending a lot of time and studying the language so hard, we're hardly able to hold a decent conversation by the time we finish the course.

Why is that?

Well, in order to become fluent at a language we need to learn two things:
– We need to learn a lot about the language (words, grammar).
– We need to learn to use what we learn.

Most people only focus on learning a language, but not using it!
You can only ''activate'' the words in your brain by using them.

Therefore, we always recommend students to start making sentences with the words you've learned from the beginning. You can simply write down sentences or even better, practice with a native speaker online.

I know it's scary but it's probably the best thing to do to reach a conversational level in record time.

So…
– Learn the most important words.
– Make lots of sentences.
– Hold simple conversations with a tutor and keep expanding your vocabulary.

3. Keep yourself accountable, be consistent.

Many people try to learn a new language, but few eventually become fluent. Most of the time it's a problem with motivation. You download an app, go through a few lessons but eventually, it gets boring and you give up.

Connecting to Indonesian people to practice on websites like italki.com are great ways to stay motivated. Languages are invented to be used with real people so don't forget to speak it!

Another way to progress in the long term is by being consistent in your learning. Ideally, you should study Indonesian every single day, even if it's only for ten minutes. Look for communities online for people who are learning Indonesian or sign up for a language challenge. These are great ways to stay motivated and stay consistent in your learning.  

7. Powerful Indonesian resources
Indonesian isn't a popular language to learn but there are quite a few good resources out there that offer this language.

We're not a big fan of the popular apps such as  DuoLingo and Memrise, but we wanted to mention them as they also offer content for Indonesian learners.
You can study Indonesian for free on these platforms and they have ''gamified'' the courses so it almost feels like you're playing a video game when you're learning.
The problem with these platforms is that you learn a lot of random words and you don't really learn to hold conversations.

Teach Yourself Indonesian

Teach Yourself offers a wide range of self-study books including Indonesian. In 24 thematic chapters, you learn important language structures through dialogues. Each chapter includes key vocabulary lists. This book also features current cultural information boxes that reflect recent changes in society.
VocaBooster Indonesian

One of the biggest frustrations we faced learning Indonesian with learning traditional language courses was that so much irrelevant content was taught which included things one simply did not need to know as a beginner.

Therefore, we decided to create an Indonesian course where we only focus on the most important vocabulary for beginners! We handpicked 500 of the most important words in Indonesian, put them in a logical order and added example sentences and native audio recordings.

We also created Anki Flashcard Decks which allows you to study the content with ''Spaced Repetition'' which can be practiced anywhere and on a mobile device.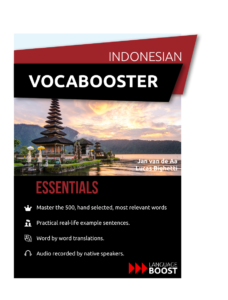 Click here for more info about VocaBooster Indonesian.

Want to practice your speaking skills?

Check out italki.com and Verbling.com to find Indonesian tutors to practice your speaking skills. Rates vary between $5-$10 per hour for private lessons over Skype.

That was it, we hope this post has been helpful to you.

Good luck with your Indonesian studies!

Jan and Lucas
About the writer of this acticle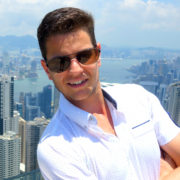 Jan van der Aa traveled to over 100 countries and learned 10 languages before he turned 30. On this website, he shares his language learning experience and helps people from all over the world to learn languages faster.
Jan van der Aa
Co-founder LanguageBoost
Contact details:
Languageboost OÜ
Narva mnt 5
Tallinn, Estonia
VAT: EE102137978
Registry code: 14563273
info[at]languageboost.biz