Are you interested in learning a foreign language, but unsure where to start or which language to learn?
If you really enjoy learning languages or you're thinking about learning your first foreign language, learning Spanish might be a great next step for you!
It's a widely spoken language and being able to speak it could open a world of possibilities for you. It's not too hard to learn, and there are plenty of resources out there that could help you study it. So, why not give it a try?
Here are 5 great reasons why I think it's a good idea to learn Spanish.
#1 It's a global language
With nearly 400 million native speakers, Spanish is the second most widely spoken language in the world.
It is the official language in 20 countries! The majority of native Spanish speakers are located in the South America, where Spanish is the native language in the majority of countries.
Not only is it spoken in Spain and Latin America, but some predictions estimate that by 2050, there will be 160 million speakers in the US alone. It is estimated that the USA will become the biggest Spanish speaking country in the world.
The USA is currently world's second-largest Spanish-speaking country (41 million native speakers plus 11.6 million who are bilingual) after Mexico (121 million), which puts it ahead of Colombia (48 million) and Spain (46 million).
In addition, approximately 15% of the European population speaks Spanish. It is a native language in Spain, but it is widely taught in schools in other countries in Europe, such as France, the UK, Netherlands, and Germany.
Spanish is a global language, second only to Chinese, in terms of the number of speakers. This is reason enough to start learning it.
Also, depending on your place of residence, knowing Spanish might open new job opportunities for you. In some states in the US, you will have an advantage when compared to other candidates if you can speak Spanish.
Speaking another language always comes in handy when looking for a job.
Mexico is one of the 20 countries where Spanish is the official language.
This photo was taken in Tulum, Mexico, my 99th country.
If you enjoy traveling, I recommend learning Spanish, especially if your heart is set on Latin America. I've personally traveled to a lot of countries in South America. Being able to speak Spanish was very helpful because I was able to communicate and connect with the people.
The people in those countries are very open and kind. Being able to speak their language will open up a whole new world for you and you will be able to get a real feel of their welcoming culture. You can also easily ask for directions and meet locals.
Being able to speak Spanish gives you an insight into the local culture and makes it possible to build connections with the people. It enriches your traveling experience.
So, speaking Spanish will enable you to connect better and speak to many people all over the world.
Being able to speak Spanish allowed to speak to the locals in Bolivia in their own language. Photo: Uyuni Salt Flats, Bolivia.
#3 It's pretty easy to learn
Spanish is closely related to English, so if you already speak English, it's relatively easy to learn.
English and Spanish may not belong to the same group of languages, but they are still quite similar. Just like English and French, Spanish shares much similar vocabulary (they share thousands of cognates) with English along with word order and sentence structure.
Cognates are words that are spelled the same way or in a similar way in two different languages and usually have the same, or nearly the same meaning. But, be careful! This is not always the case!
Check out these false cognates:
Embarazada – (Embarrassed? No!) – Pregnant
Fàbrica – (Fabric? No!) – Factory
Pie – (Pie? No!) – Foot
Ropa – (Rope? No!) – Clothes
Delito – (Delight? No!) – Crime
Rapista – (Rapist? No!) – Barber

What are the similarities?

So, English and Spanish are similar in word endings, word beginnings, and also patterns in spelling. Here are a few examples:
n

ation

,

n

ación

st

ation

,

est

ación

public

ation

,

public

ación
fideli

ty,

fideli

dad

felici

ty,

felici

dad

liber

ty,

liber

tad
famo

us,

famo

so

nervo

us,

nervi

oso

precio

us,

precio

so
communism,

comunism

o

atheism,

ateísm

o

capitalism,

capitalism

o
antipat

hy,

antipat

ía

autonom

y,

autonom

ía

paramedic

,

paramédic

o
As you learn Spanish and expand your vocabulary, you will come across different, yet subtle word patterns which will help you remember vocabulary easily.
Also, both languages use the Roman alphabet which is the same with the exception of a character ñ used in Spanish. Other Spanish sounds that differ from English ones are very easy to learn, such as ll, rr.

Sentence structure

In addition, apart from the fact that in Spanish an adjective comes after a noun, as in English, the sentence structure in both languages is very similar. What makes Spanish easy is that there usually are multiple ways you can place the words in the sentence without losing its meaning.
Here's an example of two sentences with different word order, but with the same meaning. (Notice the cool upside questions marks!).
¿Habla español Joel? / ¿Habla Joel español?   –   Does Joel speak Spanish?

Pluralization

In the English language, you pluralize a noun by adding –s or –es to it. The same rule is followed in Spanish, with the exception of the article that comes before the word.
When pluralizing a word in Spanish, the article also changes. Here are some examples:
El gato negro (the black cat) /  Los gatos negros (the black cats)
La rosa roja (the red rose) / Las rosas rojas (the red roses)

Capitalization

There are languages, like German, that capitalize each noun in a sentence. This is not the case with English and also in Spanish.
Both languages use pretty much the same capitalization rules, with a few exceptions. In Spanish, you don't capitalize languages, nationalities, religions, days, months or seasons.
It's also important to emphasize the differences in sentence punctuations. Usually, the punctuations are the same, with the exception that in Spanish, question marks and exclamation marks are used at the beginning and the end of the sentence (¿Habla Joel español?).
#4 It's a great base for other languages
If you enjoy learning different foreign languages, knowing how to speak Spanish can act as a  great reference base for learning other similar languages.
As mentioned above, Spanish has many similarities with English. But, Spanish is quite closely related to Italian, Portuguese, Romanian and French.
Italian might be phonetically most closely related to Spanish. However, even though French and Spanish aren't very phonetically related, they are often referred to as sister languages.
Here are some examples of similarity between some of the above-mentioned languages:

I want to eat.
FR: Je veux manger.
IT: Io voglio mangiare.
SP: Yo quiero comer.
PT: Eu quero comer.

To know
FR: savoir
IT: sapere
SP: saber
PT: saber
Knowing some of Spanish will be helpful for those who want to learn languages like Portuguese, Italian or even French.
#5 Spanish is a beautiful language
Romance languages, in general, have such a nice sound to them. Spanish is no exception.
Just like with any language, Spanish is spoken differently in different cultures so it has many dialects and accents. For example, Peruvian Spanish sounds quite soft-spoken, while Cuban Spanish sounds a bit loud and somewhat heavy. European Spanish can sound pretty fast when spoken by natives.
The way in which the language is spoken gives an indication of the vibe of the people. For instance, Hispanics are emotional, temperamental people, and to some extent this is true. It is amazing how the sound of the spoken language can reflect the temperament of its speakers.
All in all, Spanish is a beautiful language worth learning. Just think of all the Latin songs you've heard, or the movies or maybe soap operas you've seen.
Not only the language is beautiful, most countries where Spanish is spoken are beatiful too!
Photo: Bocas del Torro, Panama.

There are so many resources out there which could help you learn the language faster and easier – from song lyrics to TV shows.  
Learning Spanish can open a whole new world of possibilities for you, so why not give it a try?
About the writer of this article: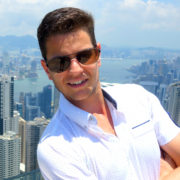 Jan van der Aa traveled to 100 countries and learned 10 languages before he turned 30. On his website he shares his language learning experience and helps people from all over the world to learn languages faster.
Jan van der Aa
Co-founder LanguageBoost
Contact details:
Languageboost OÜ
Narva mnt 5
Tallinn, Estonia
VAT: EE102137978
Registry code: 14563273
info[at]languageboost.biz