So, you've decided to learn French? Génial!
French is a beautiful language, the language of romance and love. It might take you some time and effort to master it, but the benefits will be worth it! There are many good reasons to learn French.

Learning French, or any other language for that matter, can be a very rewarding experience. However, it can also be a very time-consuming and frustrating process, depending on the way and means by which you are studying it.

But it shouldn't be a struggle. It might not be the easiest language out there, but within a few months of active learning, you can definitely reach a conversational level. If you're asking yourself how to learnm French by yourself… well, read on!

I've been learning French for three years now and I will share with you 7 tips which have helped me in my learning experience.
But before we begin, if you're struggling to learn French language online, have a look at the link below…
Want to learn French by yourself? Learn the French words and grammar structures that will allow you to speak conversational French in less than 21 class hours: Jumpstart French!
This blogpost was originally published as a video, watch the original video here.
The very first step in any language learning process is deciding that you will make the effort and put the time in to study a new language. There's no magic formula! Learning a new language takes time, dedication, hard work, and one can face some frustration sometimes.
When you start something new, usually, the novelty of it keeps you interested. Even little progress that you make, helps keep you be motivated for studying further.
But, what happens when the novelty wears off, and when you don't see yourself making that progress that you want? Maybe, you get stuck for a while, you're not moving forward as fast as you'd like. Or, you're just struggling with a specific language feature – remembering a word or a grammar rule.
Things such as these can make language learning very frustrating. You need to have something that will encourage you to keep going. And believe that there's an easy way to learn French for beginners.

Motivation is the key ingredient to successful language learning. When I decide that I want to learn a new language, I usually ask myself this question:

How learning to speak this language can change my life?
Asking this question is important for me because it gives me reasons for wanting to learn a language in the first place. Having reasons to learn French is a great motivation. Maybe you have some of your own:

Will it help your career?

Do you want to make traveling easier?

Do you want to challenge your mind?

Want to surprise your loved ones?

Do you want to meet people from other cultures?

Is learning French on your New Year's resolution list?

Something else?
Whatever your reasons might be, remember them in moments when you feel stuck, or when you experience frustration. It is very easy to give up when your motivation wears off.
Also, remember to maintain your momentum. Momentum is key to maintaining motivation. This is how it works:

You learn new things ⇨ You start using things that you learned ⇨ You see your  achievement ⇨ You are motivated further ⇨ You learn more ⇨ and so on …
The bottom line
Make sure you find what motivates you, maintain your momentum and press on, because there are many excellent reasons to learn French. Don't give up!
No motivation to learn French? A trip to France might help!
#2 Don't try to learn everything
It is important that you find good learning material.
When you are searching for some books and available learning material, try to find resources which avoid teaching you challenging grammar rules or hard words at the very beginning.
It is very easy to start feeling overwhelmed when you first start to learn French at home. Languages usually have over a hundred thousand words, but speakers use only a fraction of them for everyday communication.
Only focus on the vocabulary that you think will be useful for. There's no need to waste time and energy on difficult, long words that you will hardly ever use, especially in your first few conversations.
Some of the things you can focus on at the beginning are:
Greetings

How to introduce yourself

The most important verbs

Basic sentence structures

Explain why you are learning French


What you do for a living, etc.
Once you are more comfortable with the new language, and you reach a point where you can hold a simple conversation, then you can try learning more difficult things.
Remember momentum?
Learn ⇨ use ⇨ feel great ⇨ more motivation ⇨ keep learning more…
This is easier to achieve and maintain, if you first focus on simpler things that will help you to reach a conversational level in French.
Don't try to learn everything in the beginning, instead focus on what really matters.
The 80:20 rule states that 80% of the results comes from only 20% of the work.
The bottom line
When you are starting to learn French, focus on common words or phrases, usually used by native speakers in everyday life. Leave more difficult things for later, in order to avoid becoming overwhelmed!
#3 Always learn French in context
Our brains remember things better once we place things in context. The more connections we make when learning a new word, the better and longer we remember it for.
That's why I like to learn a whole phrase or a sentence which contains the new word. That way, you're making connections between words, and often even learning a grammar rule, if you look at the way the sentence is formed. This tip is useful if you want to learn French language online.

Context can include:
A sentence

A story

A situation


Anything that builds connections to the new word
The bottom line
Learning things in context will help you remember them better and for longer. It will also help you learn them quicker.
How many times have you heard people (or yourself) say that they learned a foreign language at some point, but haven't used it for a while and now it's long forgotten? This is because our brain will push back information that it doesn't need and eventually forget it, in order to make room for new information.
Learning new vocabulary is one thing, but it only becomes part of you when you start using it. Activate new vocabulary by using the new words that you learn!

Another reason you should use what you learn is to not forget new things so fast.
It's very similar to physical exercise. Say that I want to get in shape, so I start exercising. I put in all the hard work to reach a certain level of fitness that I am content with. Then, all of a sudden, I decide to take a break. So, I rest for a few weeks, a month… If I try to get back to all of my activities I was undertaking  prior to taking that break, all of a sudden I will notice that I'm not in very good shape any more. I haven't used my muscles in the same capacity, so my muscles have relaxed.
The same thing occurs with our language skills. In order to remember what you learned, it's important to use it, and use it regularly!
It's easy and you can do the following:
Once you learn a few words, always make new sentences using those words

Come up with your own phrases

Play with the combinations of words you have learned, forming new sentences

If you are taking tutoring classes, you can use the new words you've learned at the beginning of the lesson. At the end of the lesson, you can revise them with your teacher

Practise with ''drill exercises''
The bottom line
Do not simply study but use new words and grammar structures to ''activate'' them in your brain. If you don't make use of your new learning, you will lose it!
Make sure you always use what you've learned so that you avoid forgetting it. Make up your own sentences using the words you've learned and revise them often until they become second nature to you.
Use the words you learn and it will be easier to active your vocabulary.
Use what you learn to "activate" your French.
Here I'm "using" my French about 3 years after I started from scratch.
#5 Learn French with audio
There are many reasons why I am a strong believer that you need to learn French (and any language) using audio. If you're wondering how to learn French easily by yourself, audio should be your best friend.

As I have already mentioned, when learning a new word, you need to make as many connections to it as possible. The more connections you make, the easier it will be to memorize it and remember it later in your conversations.
You can observe the word visually and add audio to it. In this way, you make another connection to the word. Not only are you learning proper pronunciation, but you're also building more connections, which will make memorizing the word easier.
There is another reason why you need to learn French with the help of audio. There are languages in which words are written closely or exactly in the way they are spoken. We call these "phonetic languages". This makes learning these languages a bit easier.
Unfortunately, French is not a phonetic language. In French, the written and spoken word "look" different most of the time. Here's an example:
Beaucoup [boku] – many, a lot (of)
As you can see in the example of the word above, the written word looks different to way in which it is pronounced. For this reason, it's important to learn French with audio assistance so that you can get the pronunciation right.
The bottom line
When you learn French, I strongly advise you to use audio, along with all your visual aids. Listen and read the word at the same time.
This will help you to learn the word faster, remember it longer and pronounce it correctly.
If you want to learn French language online, try to make your language learning a part of your daily routine. It will help you stay motivated and will keep the things you've learnt fresh in your mind.
It is better to set aside 20 minutes everyday, as opposed to learning once or twice a week for an hour. At the beginning, it might be tricky, but after a few days, it will become part of your daily routine.

I prefer to study for 20-30 minutes everyday before going to bed. At that time I don't have any distractions and find it easier to focus. Find a moment during the day and a place that works for you. And read these bio-hacking principles to make the most of memorization techniques.

#7 Repetition is the key to learn French
It is often said that repetition is the mother of learning. As far as language learning is concerned, it most certainly is!
70 to 80% of language learning is achieved by repetition. You don't need to constantly be learning new things. It's often more important to reactivate your passive vocabulary.
Just imagine the frustration when you forget new words that you have learned, after all the time and effort you've already put in! Surely frustrating, right?
Well, there's a simple cure for that. Repeat, repeat and repeat. Once you learn something, you need to use it, revise it, review it as often as possible. This way you memorize it more easily.
You might need to see a word over 5 or 6 times in order to memorize it. If the words are long, the pronunciation is difficult and you struggle with memorizing them. The key is to look at the word and hear it enough times that it becomes very familiar to you. This way, it becomes a part of your vocabulary.
If you want to learn French at home, it's helpful to use flashcards. They are a handy tool to help repeating words or phrases you've learned. After a while, when you reach a conversational level of speaking, you can start reading different texts written in French to refresh and expand your vocabulary.
The bottom line
A lot of repetition is required if one is eager to learn a language. While you are learning new words, make sure that you reactivate your passive vocabulary as well. It's not so important to constantly be learning something new. It's more important to not forget those things which you have already learned.
We're a big fan of using apps like Anki, that make use of spaced repetition.
How to learn French easily? Conclusions
If you've made the decision to learn French, there are some things that will help you on that journey.
Stay motivated!

Motivation will keep you moving forward, and the lack of motivation will slow down the learning process

First things first!

Don't try to learn everything at the very beginning. You don't need to learn very complicated words or difficult grammar which is not used in everyday language. Focus on key phrases that you feel will help you to reach a conversational level faster

Learn in context

. The more connections to the word that you make, will help make it easier to remember and harder to forget

Use what you've learned

. Make up new sentences using the words you know. The more you use them, the less likely you are to forget them

Use audio tools along with visual content. This will help you memorize things faster and pronounce the words correctly
Set aside time daily

for your language learning. You don't need to take daily lessons, just take some time to review what you've already learned

Repeat, repeat, repeat

. Repetition is truly the mother of knowledg!
If you want to learn French and become conversational in French in a matter of weeks, click here and sign up for our FREE 3-Part VIDEO Training Series
About the writer of this article: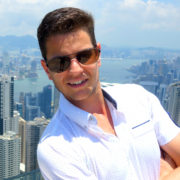 Jan van der Aa traveled to 100 countries and learned 10 languages before he turned 30. On his website he shares his language learning experience and helps people from all over the world to learn languages faster.
Jan van der Aa
Co-founder LanguageBoost
Sign up for our FREE 3-Part VIDEO Training Series and learn how you can become conversational in French in a matter of weeks!
Contact details:
Languageboost OÜ
Narva mnt 5
Tallinn, Estonia
VAT: EE102137978
Registry code: 14563273
info[at]languageboost.biz